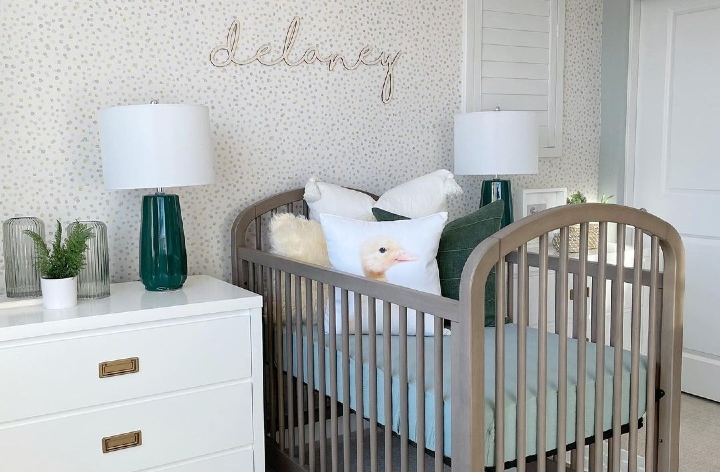 How to Nurture with Neutrals
Explore the joy of simple neutral tones and soft comforting style.
Create a calming Scandi space for your little ones to grow and play. Delve into an abundance of upliftingly light designs, perfect for creating neutral nurseries and paired back playrooms.
Kelda's woodland scene of baby deer, squirrels, hedgehogs and hares will bring a true sense of magic to your space. We love how Imogen, @homeforwillow has used seafoam green panelling, rattan baskets and bleached wood furniture to create a calming Scandi vibe. This nature inspired wallpaper creates the perfect setting for a gender-neutral bedroom or playroom.
Tap into the world of neutrals and create a timeless space for your little ones to grow. We love what Kelsey from @kelseylesliedesigns has created using our Lots of Dots wallpaper. Its misty greys and soft hues of biscuity neutrals create a serene and tranquil space that sits perfectly with her dark grey and green accessories. This timeless pattern is a great example of a transitional print that works for a child of any age.
Another great example of a gorgeous neutral scheme is this dreamy set up from Krista @kristaoldach using our adorable April showers wallpaper in her kids' bedroom. By continuing the theme with cloud mirrors and soft sunshine toys, Krista has created a fun space that celebrates all the topsy-turvy weather the sky may bring.
Our Jelly Tot Stripes wallpaper is inspired by the humble seaside deckchair. The striped wallpaper pattern introduces a relaxed neutral vibe but with a tangy mustard zing. Accessorize by partnering accent colours of duck egg blue and dark grey from our range of curtains, cushions and cuddly throws.
Why not get creative and pull together a playful, paired back mood board for your child's nursery, bedroom or playroom? Explore biscuity neutrals and accents of soft seaglass greens and warm honey tones as you create a calming Scandi space for your little one.