How-To | How to Wallpaper Around A Socket
With their colour, pattern and textures, our wallpapers can transform a room. There's something for everyone, whether you're papering a feature wall or the whole room. We have a huge variety of wallpaper to choose from, so once you've picked your favourite, you're all set! That said, working out how much wallpaper you need can sometimes feel a little overwhelming, so remember to use our wallpaper calculator and to check out our handy tips below.
Top tip: If you're wallpapering for the first time, consider honing your skills on a feature wall or in a smaller room. You don't need to be a professional, all that's needed are the right tools and a bit of perseverance - you'll get the hang of it in no time.
P.S. Most Scion wallpapers are paste the wall, meaning they can be hung more easily.
Switches or sockets can often get in the way of a beautiful wallpapered wall. Have no fear- our handy guide is here! It's a good idea to turn off your electricity at the mains before you start this process.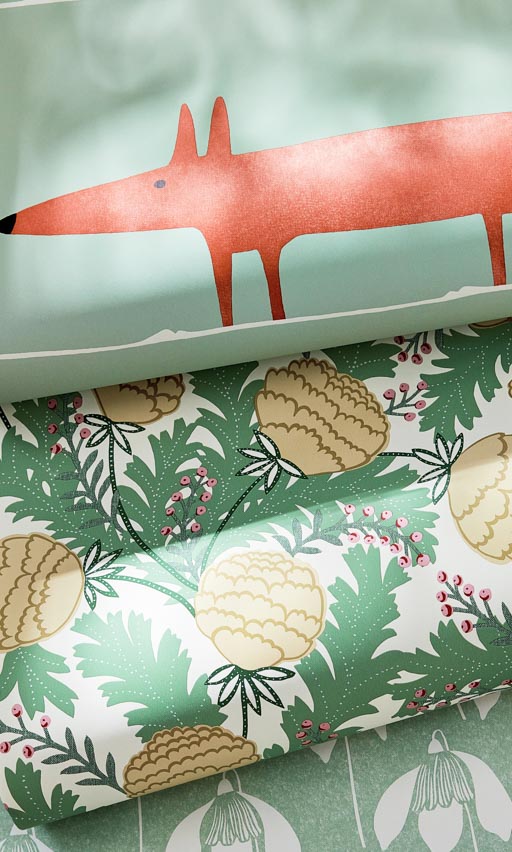 Wallpapering toolkit. You will need:
Wallpaper
Flat surface (a wallpaper table is ideal, but if not a large kitchen counter or dining room table will work just fine)
Wallpaper brush
Wallpaper paste
Scissors
Taping knife
Roller
Spirit level
Pencil and Stanley knife
Tape measure
Sponge
Screwdriver
Step one:
Paper over the top of the socket
Position the paper against your wall and press gently to the pasted surface, continuing for the full length of the paper but not pressing down over the socket.
Step two:
Mark up
Use a pencil to carefully mark out the four corners of the socket on to the wallpaper.
Step three:
Commit to snip
In the middle of the pencil marks cut a slit in the paper and from this centre slit, cut to each corner of the socket to create four triangles. Gently peel back these triangles and cut them off to reveal the socket.
Step four:
Slowly does it
WE RECOMMEND TURNING OFF THE ELECTRICITY FOR THIS STEP
Loosen the socket and push any excess paper behind the fitting to create the perfect finish! Re-tighten the socket screws once done.
Step five:
A quick tidy up
Use a slightly dampened sponge to clean off any paste on the socket.
Looking good!
We'd love to see your transformed walls, so style away, then share your finished looks with us using #scion_living
Head over to the Scion wallpaper page and browse through our huge range of designs.
When something catches your eye, it's a good idea to order a sample, just to make sure the colours and textures are right for your scheme.
Then, once you've chosen your favourite design, use our handy wallpaper calculator to work out how many rolls you need to complete your project.
If you have any questions, please contact our customer service team who will be more than happy to help.