The Edit
Bedroom Glow Up with Terian Tilston
Terian Tilston, Interior Designer and former Interior Design Masters contestant, recently gave her master bedroom a joyous Scion makeover. In this Q&A we learn Terian's top interiors tips including where to start with your project and her top tips on creating a happy home.
Hey there Terian, tell us a little about yourself.
Hi! I'm Terian, an Interior Designer, maker, DIYer and all round creative sort! I live in Fife in Scotland with my two kids and husband in our very colourful home and I'm the owner and lead designer of design studio Terian Tilston Interior Design, an interior design studio specialising in affordable interior design solutions.
Our mission is to make the word a happier place. How would you describe your own design philosophy?
One of the driving forces for setting up my own design studio was so that I could help to create affordable happy spaces for people. Our homes are often our sanctuaries and everyone deserves to feel happy and safe in an environment that inspires them and reflects who they truly are, regardless of budget! A place we can just be ourselves. It is my mission to help others create their own happy spaces around them.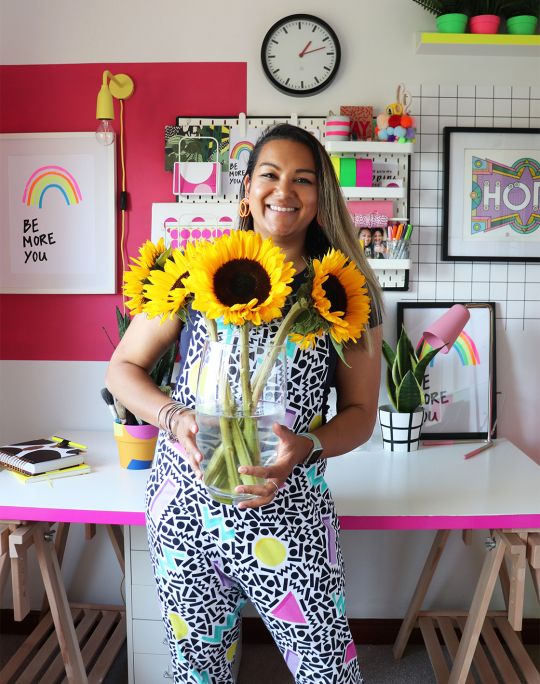 Terian Tilston / Terian's bedroom moodboard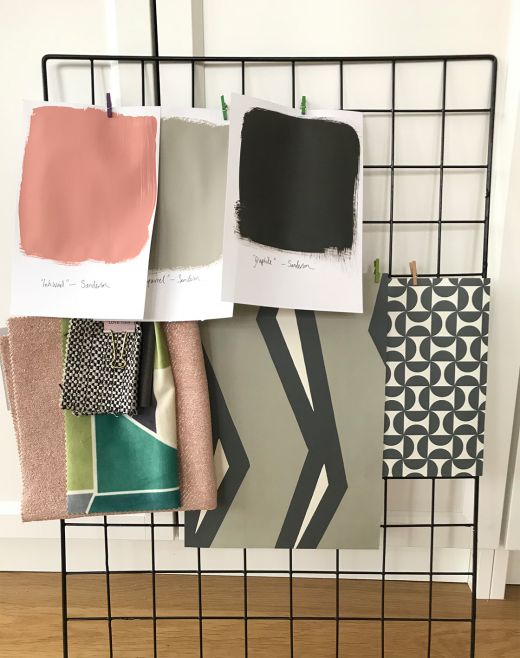 What are the reasons for giving your space a little bit of love?
The past few years have been pretty chaotic. I started my design studio two years ago and soon fell pregnant with my wee girl Iona.Trying to establish a new business whilst being mummy to two very small children has been pretty stressful and our bedroom had become the dumping ground of the home as well as my daughters bedroom for the first year! We didn't really have anywhere to retreat to at the end of a long tiring day, and walking into my room at the end of the day was actually a source of more stress, rather than relief. I wanted to claim back our space and create a calming, inspiring, quirky grown up space we could retreat to at night that was our very own. A space that really reflected who we are and all the things we love.
Transforming your home can feel like an overwhelming task - so where do you start?
Just like anything really, when overwhelm kicks in, I find it best to break all tasks down into manageable chunks and create a plan. Start with the space you use the most, the space you will get the most benefit from seeing a transformation. Set a realistic budget of how much you feel comfortable spending on the space; make a list of the problem areas, things you currently don't like about the space as well as how you would like to FEEL, when you are in the space and have a think about what would it take to fix these problems and create this feel. Can you reuse items you have from around the home rather than buy new? Can you upcycle or have items reupholstered?
Create a plan of everything you will need to transform your space making sure it's all in budget. Do not spend a single penny until you have created a clear plan. This is so important. Without a clear plan of what is needed, you can quickly end up wasting money and getting sucked into buying things you just don't need... The environment won't thank you for this!
Which part of your space are you (not so) secretly obsessed with?
I just love the Rayo wallpaper, and the view I have of the room as I walk into the room. It's probably not obvious...but the inspiration for the design for my room comes from the seaside (I live near the beach!). I decided to hang the wallpaper horizontally rather than vertically so it looked like waves. The coral and pink tones represent the sunset and the greens from the beautiful velvet fabric remind me of palm trees. Everything from the textures and colours of the fabric and the pattern of the wallpaper, just fills me with joy when I walk into my room now. I've finally created my own little happy space! Ok... so basically I love it all!
Are you all about coordination or do you go for a more mismatched kind of vibe?
It really depends on what feel I am trying to create for a space. I would say my personal style in my own home is probably pretty mismatched rather than coordinated. That's because I tend to fill my home with things that bring my family and me joy. Colours and items that remind us of happy places and happy times and that just inspire us really...So by default things are a little mismatched...But mismatched with intention! Ha!
Creating your version of happy takes time and our homes often evolve over time. I very much champion the slow grown home; it's not a race.
What are your top tips for creating a happy home?
1. Only bring things into your home that you love, and that bring you joy having it around you.
2. Spend some time thinking about how you want to feel when you are in each room of your home and use this as your starting point for putting a decor scheme together. For example, just because you love the colour red, doesn't mean it's necessarily the right colour for your room if you are wanting to feel calm, relaxed and at peace.
3. Don't get caught up with worrying about what other people who don't live in your home will think. Remember, it's YOUR home, and YOUR life. Your home needs to support YOU and reflect who you are, so be brave and lean in to your version of happy, however that may look.