We recently caught up with Mirlah, interiors and tea-obsessed mama of two and blogger at @heymirlah, to hear her top tips on how to make your home your own.
Hey there Mirlah, tell us a little about yourself.
Hi, I'm Mirlah a 30-something mother of two and wife to childhood sweetheart Nik. I love Yorkshire tea, colour and not taking life too seriously.
Scion's mission is to make the world a happier place. How would you describe your own design philosophy?
GO WITH YOUR GUT. If you like it, go for it! This is our first home we've bought and being able to decorate as we please is so liberating. I think there's a tendency for people to hold back for fear that your home won't sell if you decorate too boldly. But if that's the case, and you're always decorating with someone else in mind, then we'll never truly live in a home that represents us!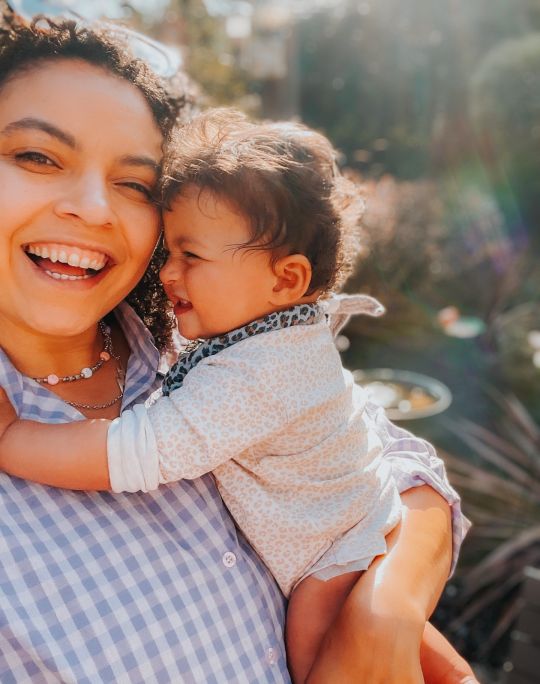 Mirlah and her adorable daughter / Seat pad using Riko fabric, made to measure cushion using Parlour Palm fabric
What are the reasons for giving your space a little bit of love?
The new house, whilst it's perfectly lovely and liveable it was lacking a bit of us! So we wanted to add some colour and put our stamp on it. We wanted to make use of an empty corner in the dining room with a bespoke piece and the kids room needed transforming from a white box into something warm and fun for the little ones.
Transforming your home can feel like an overwhelming task - so where do you start?
Pinterest usually. I love creating a brand new moodboard for a project or room makeover. I don't like to rush things through though, I like to take time to gather inspiration and let the theme come together naturally. You start to see patterns emerge and it confirms what direction you want to take things in.
Which part of your space are you secretly obsessed with?
I absolutely love our window nook. It's the perfect mix of fun and practical. We've now got built-in storage for bags and shoes and it's a really fab place to sit and have a brew. The colours are bold but us and we're so chuffed with how it all came together.
Are you all about coordination or do you go for a more mismatched kind of vibe?
Mismatched for sure. Somehow it all ends up looking cohesive (or at least in my mind it does!) but we just choose things we love and hope it pulls together in the end.
Mirlah's new window nook in the corner of her dining room / Seat pad in Riko fabric, cushions in Parlour Palm and Forma
What are your top tips for creating a happy home?
Trends come and go so don't feel tempted to go along with them if they're not quite you. I love having pieces around the home that remind me of things, like pressed flowers my son picked for me on a lockdown walk or old photographs, it feels more personal. Also, always have a plentiful supply of teabags.
Surround yourself with the things that make YOU happy and you'll create a happy home.