The Edit
Q&A with @makemynewbuildpretty: How To Put Your Own Stamp on Your New Pad
Elise Dodds is a homeowner with a penchant for design. With her and her husband working from home, full time, during the lockdown, she realised changes needed to be made to their home, bringing personality to their box-fresh new build. @makemynewbuildpretty was set up to document her stylish home updates and some became a passion and a portal for introducing boldly clashing prints with bravado.
Here, Elise shares her love of colour and pattern, how having a new build doesn't mean a neutral palette is mandatory, and why Scion's Snowdrop wallpaper in Milkshake, Rosehip fabric and Swim Swam Swan cushion started an eclectic theme that unravelled in home joy.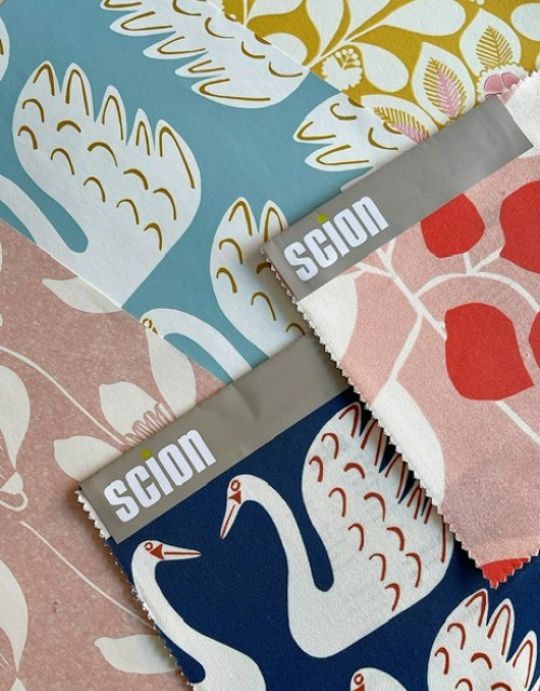 @makemynewbuildpretty samples | Her new look bedroom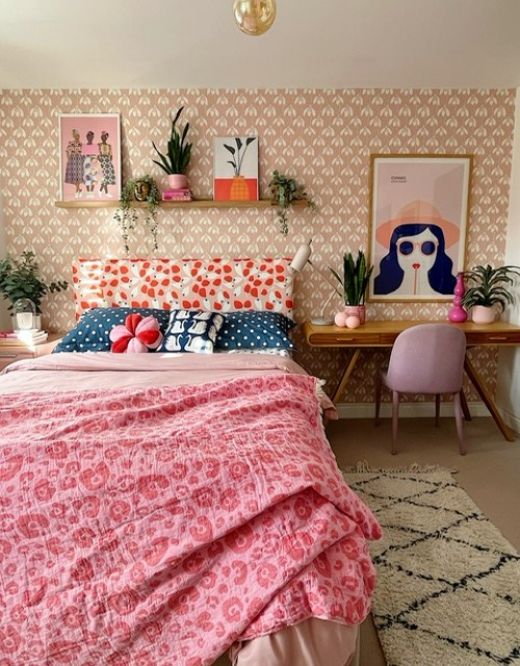 You're a self-confessed lover of period properties living in a new build - how did this happen and how have you embraced it?
With our first baby on the way we felt it was time to leave our small, rented flat in North London and buy a more affordable property nearer our families. We loved period properties, but everywhere we viewed lacked parking and needed renovation work. My urge to nest led us to buy a new build house off-plan! It has taken us nearly five years to add colour and personality to it, but I was determined to prove that although a new build doesn't have the 'features' of a period property, it is still possible to add personality to any home.
Your home is festooned with character! What are the rules you live and design by when adding pattern and colour to a room?
My advice is to experiment and to take your time. I love mixing bright colours and clashing patterns, but this confidence has come over time and from trying out what makes me happy and what doesn't. Don't be too distracted by trends but choose colours that work for you. I read a fantastic tip from Mad about the House author Kate Watson-Smyth, about taking cues from your clothes for the colours you will enjoy living with in your home.
You've created the most joyful layered look using our milkshake colourway in the Snowdrop and Rosehip prints in the bedroom. How did you come to decide on these two prints together?
When designing a room I always start with one thing I love, and in this case it was Scion's Milkshake Snowdrop wallpaper. I loved the unassuming yet statement print, and how it could be so easily used to coordinate with lots of the other Scion prints. I ordered a sample online along with several other prints and colours I loved and pulled them together onto a mood board to see which patterns and colourways I was drawn to. The scheme for the room built up from there, including Scion's Rosehip in Milkshake & Poppy for our made-to-measure headboard, and I was able to add prints, lamps, and bedding inspired by my print choices.
Made-to-measure headboards are a super personal way of injecting joy and personality into a bedroom. What was your experience like with our custom service?
I always felt that my old headboard didn't really express the colourful and playful style of our home, so I was thrilled when I discovered that Scion offered a made-to-measure headboard service. I think changing a headboard can really add that instant 'wow factor' to any bedroom. There is an easy step-by-step guide on the Scion website that talks you through how to order and change up your headboard, with four styles to choose from in two heights and four widths. Basically, there is something for everyone and hundreds of prints to choose from!
What are your top tips for clashing prints with flair and fun at heart?
I always find it helpful to make a moodboard for a room so I can easily visualise how my design and ideas will come to life. I find they are a great way to experiment with different colours and patterns so you can see what combinations work best for you. I love to clash prints bringing in different colours. I find this works well if you include a nod to the colour elsewhere in the room, such as including a similarly coloured lamp, a print, or plant pot. I was determined to incorporate the fabulous Swim Swam Swan print into my bedroom scheme as well, so I opted for that in a cushion in the navy colour. This works well as there is a touch of navy in the headboard fabric. I then also added navy polka dot bedding and a navy print to draw the cushion into the scheme of the room.