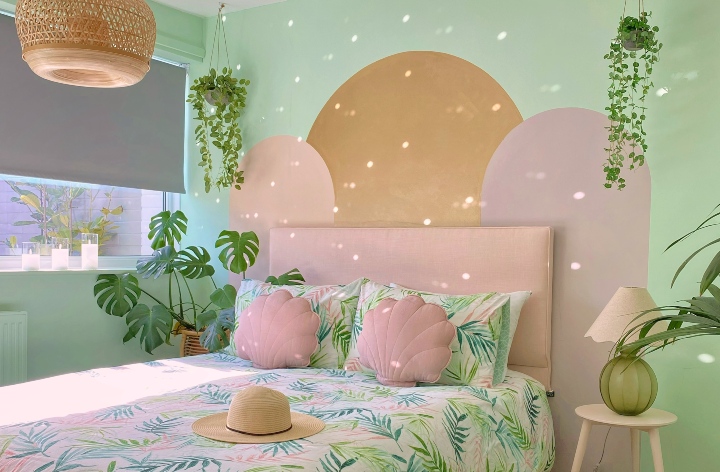 Q&A with Home with Helen and Co
Use your head(board) – think pink at home
Intro: Helen Ford is the pastel powered interiors creative behind @homewithhelenandco sharing her homely hues, one square at a time and encouraging others with a love of pastels to embrace the palette in every possible way.
When Helen started the glow-up on her serene sanctuary of a bedroom, she had a base palette of pinks and greens and a question about how to soften the room. Enter Scion. With our love of all things joyful and softly Scandi, and a penchant for pinks and greens (in plains and prints), Helen sought out our made-to-measure service to complete her bedroom transformation and boy, did it measure up well. Not all Scion is pattern laden, and Helen has shown that our textured Plains One in Blush was the perfect backdrop for her dreamy bed setting.
We caught up with Helen to talk pastel hues and calming bedroom vibes.
How would you describe your home style?
We have a pastel aesthetic with a little added tropical boho vibe, inspired by our tropical themed garden. I love to use pink for interiors because it really helps to create a warm, calming space to relax in.
Your colour palette is muted yet delightfully impactful, what is it that you love about pastel tones?
It all started with our pastel pink kitchen, which we chose to warm up the north-facing room. We found the colour felt warm and relaxing and decided to use a pale pink, green and lilac colour scheme throughout the house. These colours complement each other beautifully and brighten our home without being too loud.
What are your priorities when creating a tranquil bedroom that provides a sanctuary space?
It was really important to me that the bedroom had a calm, relaxing vibe, which is why I chose a pale green colour for the walls. I hung plants from the ceiling to save surfaces and floor space from being too cluttered. Botanical themed bedding adds a little pattern and helps to create the feeling of a relaxing sanctuary.
How did you go about selecting your fabric and headboard size with our made-to-measure service?
Pink and green is my favourite colour combination and as my bedroom is green, I knew a pale pink headboard would complement the room perfectly. I selected a few fabric samples and stuck them to the main wall in our bedroom for a few days, so I could see them at different times of the day. I chose the lower height headboard so it wouldn't dominate the colour block feature wall behind the bed. In the end, we landed on Plains One in Blush, a textured plain.
What was your experience of using Scion's made-to-measure service?
The website was easy to navigate, and samples arrived really quickly. The whole process was incredibly quick and easy - definitely a service I would use again!
What are your top tips for those looking to reinvent their bedroom space?
Think about how you want your bedroom to feel, what colours do you find most relaxing? Choose your main colour and add interest through fabrics, artwork, or maybe a feature wall in complementary colours. Air purifying plants are great for the bedroom and don't forget to utilise your wall/ceiling space to avoid cluttering the floor and surfaces in the room where you want to feel most relaxed. Save inspiration from apps such as Pinterest and Instagram and you'll soon find a common theme. You could create a mood board which makes it easier to see whether your choices will work well together. At the end of the day though, there are no rules and if you love it, you should go for it!