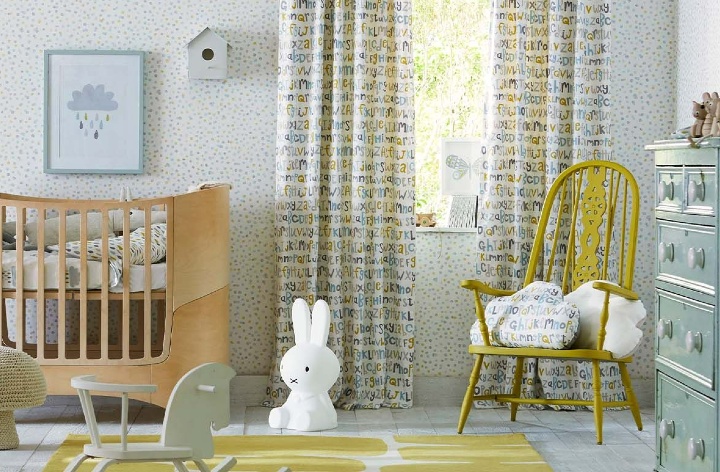 Neutral Nurseries
We've noticed a big increase in gender-neutral colour schemes for nurseries, as parents look to create cosy, relaxing havens that work for either gender.
Whether you're looking to break away from the old traditions of blue vs pink or you're keeping the gender a surprise and want a space that works either way, sticking to a gender-neutral colour palette is a brilliant option.
Pops of chalky brights are a great way to create a fun, playful space for your little one whereas more muted colour schemes bring a sense of calm whilst also feeling cosy and relaxing.
We've rounded up some of our favourite themes and styles to help give you some insporation to get your mood board started!
Sunny Orange and Yellow
These bright tones are perfect for gender-neutral nurseries. They allow you to bring in a sunny, happy vibe to the space (which you might be thankful for if you've been up all night!).
@leighlanicole has used our Lintu Birds Knitted Blanket (coming soon!) in her orange nursery. Combined with the scalloped edge paint and plenty of houseplants, it has a lovely warm feel to it and blends perfectly with the rest of her house.
@east_london_location_house has incorporated a pop of sunshine yellow with blinds in our Dhurrie fabric in this gender-neutral nursery scheme. When ordering our made to measure blinds and curtains for your nursery, don't forget to add a blackout lining - you'll thank us later!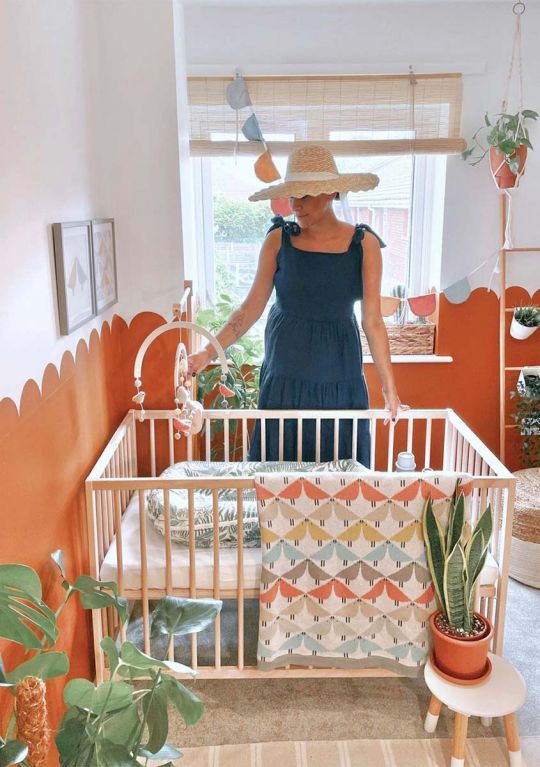 @leighlanicole with the Lintu Birds Knitted blanket (coming soon!) / Made to Measure blind in Dhurrie fabric @east_london_location_house
Shades of Grey
Neutral colour schemes are known as being the go-to for nurseries, with tones of beige and grey bringing a sense of calm to a space. Or if you're feeling more daring, grey is extremely versatile meaning you can easily add pops of colour to bring some brightness to the scheme.
We love this Lots of Dots wallpaper combined with the alphabetical Letters Play fabric of the curtains but the vibrant citrus yellow Lohko rug really brings the room together.
@homeforwillow has also opted for grey for her imminent arrival, using Kelda wallpaper in Pebble, a lovely warm greige shade which works perfectly with her half-panelled wall. Its woodland scene complete with baby deer, squirrels, hedgehogs and more looks really sweet in a nursery.
Get your wellies at the ready with our fun April Showers wallpaper and fabric. This cute design combines the grey of the clouds with rainbow-coloured raindrops, meaning it works perfectly for either gender and can be combined with a whole range of other colours.
Booby Bird is another popular choice, this time combining grey with a pistachio green. This pop of pattern works really well as a pair of curtains or a blind for your baby's room. Pair it with other bird-themed accessories and you're ready to fly!
Mint Green
Pastel and ice cream shades are another one of our favourite looks for a nursery as they bring a calming feel to a room and work well when matched with other pastel shades. Not to mention they work well for either girls or boys! Mint green is one of our all-time favourite colours and its softness lends itself really well to nursery schemes.
We absolutely love how @my_midcenturymakeover has used our mint green chevron Vector wallpaper in her nursery, and then switched it up by choosing blue or pink accessories to suit her little boy or girl, resulting in a nursery that has lasted both of her children- win win!
Cute Creatures
Because everyone loves a bit of animal print, right? It's perfect for nurseries and children's rooms, adding a sense of playfulness whilst also giving them something fun and exciting to look at!
Mr Fox is a classic look for nurseries with its simple repeat pattern and numerous colourways to suit your taste. Either try Mr Fox wallpaper for an all-over effect, or choose cushions or curtains in Mr Fox fabric for a slightly more subtle look.
For something a bit louder, opt for Animal Magic. This funky wallpaper design comes in two colourways, and features an abundance of labelled zoo animals to watch over your little one. Make the wallpaper come to life by incorporating it into their bedtime stories or even have some fun with it, spotting your child's favourites and practising learning each animal's name.
As well as wallpaper and fabric, choose accessories and furnishings in animal designs. We love @leighlanichole's bird-themed nursery featuring the Lintu Birds Knitted Blanket and Lintu Birds Hanging Decoration - both coming soon!