Home Inspiration
Design Inspo: Decorating Ideas for a Kids' Bedroom
Your child's bedroom isn't just where they sleep, it's their own space where they can relax, play and learn. It's most likely the most important room in the house for them. It's a chance for them to express themselves like never before.
Your kid's bedroom is also going to be great fun to decorate. Forget the latest trends or colour schemes, this is a chance to unleash your inner child. But don't get too carried away, remember to have your little one involved from the start. Let them help with the theme and colours. They could pick out some samples and create a mini mood board for their room.
To help get you started we've put together some ideas and inspirations for designs that we absolutely love. From bold colours and themes to more subtle schemes, our aim is to get those creative juices flowing to help create a beautiful bedroom.
Get Adventurous with a Jungle Theme
Create an exciting and adventurous space for your little explorer. A jungle theme is perfect for a kid's bedroom; it's fun, colourful and full of personality. It can be the backdrop to their imaginary games and even be incorporated into your bedtime stories.
If you're looking for a quick and easy way to transform their room into a jungle we'd recommend our Kumana design, which depicts Lionel hiding in dense tropical foliage. This colourful design will instantly transform the space and could be paired with some Lionel fabric, either in curtains or cushions.
Another fantastic option would be to use one of our botanical designs to create a tropical undergrowth. Choose from our Hikkaduwa or Parlour Palm designs, both are bursting with colourful vegetation to set the perfect backdrop to a jungle adventure.
You could add in some jungle creatures by using one of our animal-themed fabrics. While Mr Fox isn't normally found in the jungle, he does love to holiday abroad, while Lionel is right at home in the rainforest and both would make fantastic cushions. For some jungle themed curtains and blinds, we'd recommend Terry the Toucan.
Make a Splash with a Nautical Theme
Take the plunge and go for an underwater or nautical theme, a look that's really popular with younger children. This is a theme that is dominated by blues and greens but with so many features and possibilities for supporting colours through fish, boats, treasure chests and more. With an under the sea theme you're only limited by your imagination.
An underwater look can be quickly achieved with blue walls, complemented with some nautical accessories. You can either use a solid blue all the way to the ceiling and add colour with fish, seaweed and treasure chests or leave some white on the ways and add boats floating on the surface. This is a nice opportunity to get creative with felts, fabrics and stencils.
If you do go for a solid blue look then we'd recommend either our Up Periscope or Booby Bird fabric as curtains. The cute little submarines in Up Periscope come in a range of colours to help break up the big block of blue, while Booby Bird will keep an eye out for any fish you've added to the walls. Booby Bird would also make a fantastic addition as some scatter cushions.
A Creative Space for Learning
As your little ones start to grow, so does their desire to learn. You might want to take this opportunity to create a space that helps encourage that.
One method is to use fabrics and wallpapers that not only look great but also help your little ones learn. A great example of that is our Animal Magic design. This fun and funky wallpaper is home to a range of animals, along with their names. Your kids can spot their favourites and practice learning their names.
If your children are still learning their ABCs then you could try our Letters Play fabric. This could make a lovely learning cushion or a pair of curtains.
For older children, you might need to add in a space for them to learn in, whether that's homework or just a space to sit and be creative in. Just because it's a space for learning doesn't mean you can't have fun with it and incorporate some funky colours and patterns.
We love what @nekrasov_design has done. The neutral tones of the cupboards are complimented with some little pops of colour from our Padukka wallpaper and Ayaka curtains. It results in a stylish space that still has a lot of character.
Another great example is @maric_living who has created a little workstation for her son while keeping the room feeling really fun. The Moqui fabric makes a smart pair of curtains that add some nice colour to the space.
Go for Gorgeous Greys
Grey is a very underrated colour for kids bedrooms. While many might feel it a little dull, it's actually one of the most versatile colours available for home decor. There are a number of different shades you can choose from, and it combines superbly with a range of more vibrant colours.
Grey is the perfect background colour for shabby chic style rooms. We've had some stunning room designs sent in by our talented customers who have used our Kelda wallpaper to create stylish shabby chic themes. We love what @cakeatthecottage has done for her daughter's room. The space is so stylish and works for children of all ages.
If you're decorating a small bedroom then we'd also recommend grey. Light shades of grey help to make a room feel lighter and brighter, and accessories and furniture can be used to bring in pops of colour. A great example is from @happiness_interiors who has used our Mr Fox in silver on the walls and injected colour through bunting and desk chair. Another fantastic foxy example is from @swdesigngroupltd. We love how they have combined the grey wallpaper with the different shades of pink and red. This is a great example of utilising grey to make a smaller space feel bigger.
Some of our Favourites
There are so many different ways you can decorate your kid's room. Every child is different and we could never cover them all. But by sharing some of the best rooms we've seen, hopefully, we can inspire you and your little one.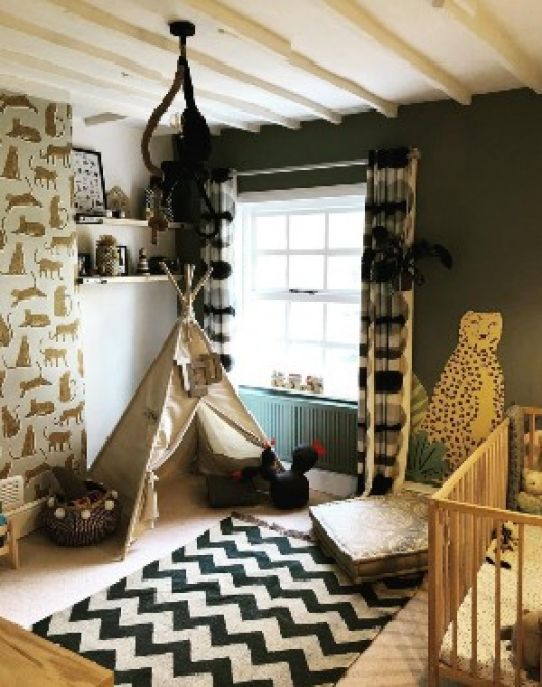 @homeonthebrook1700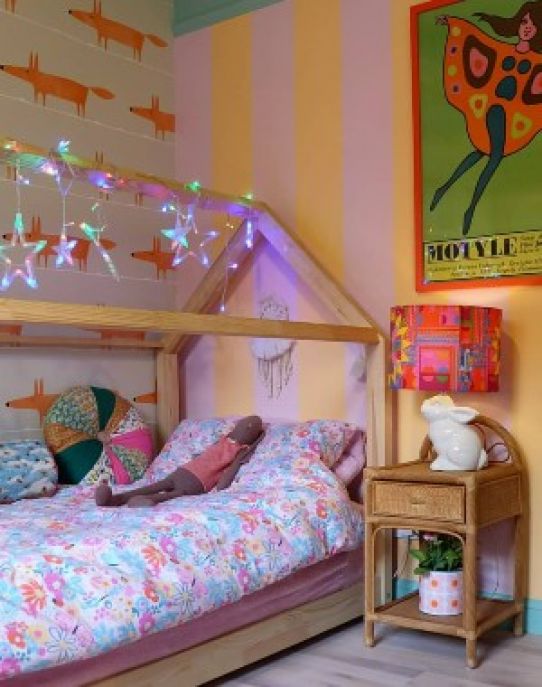 @the_upside_down_house
@semi.detached.life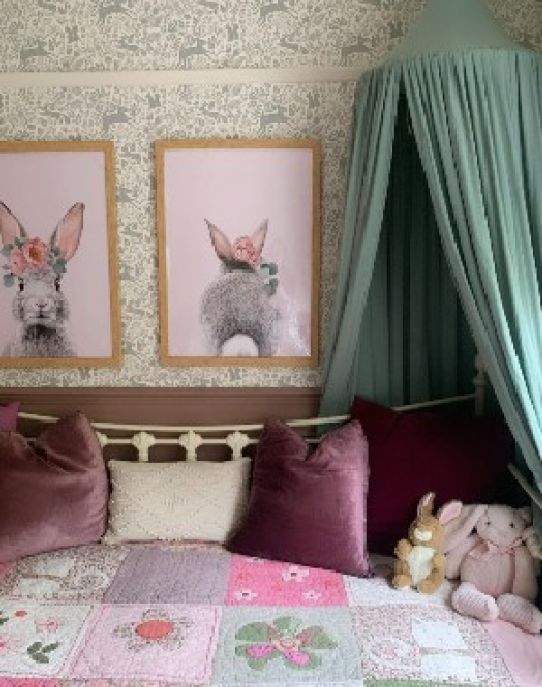 @fix_no_166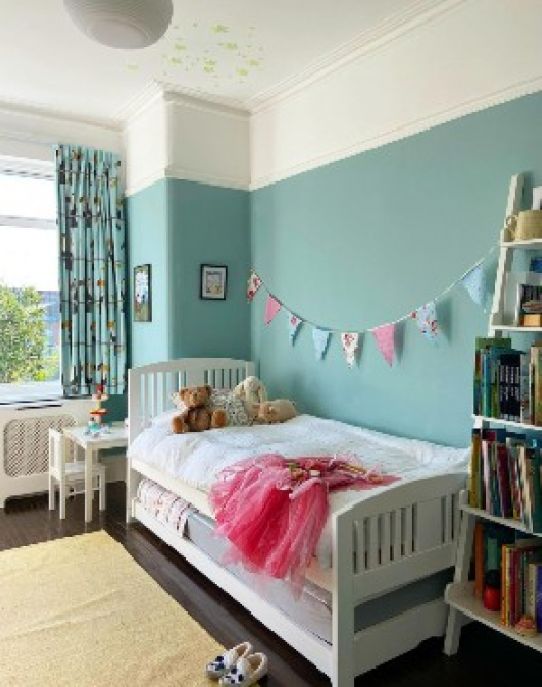 @northlondontownhouse