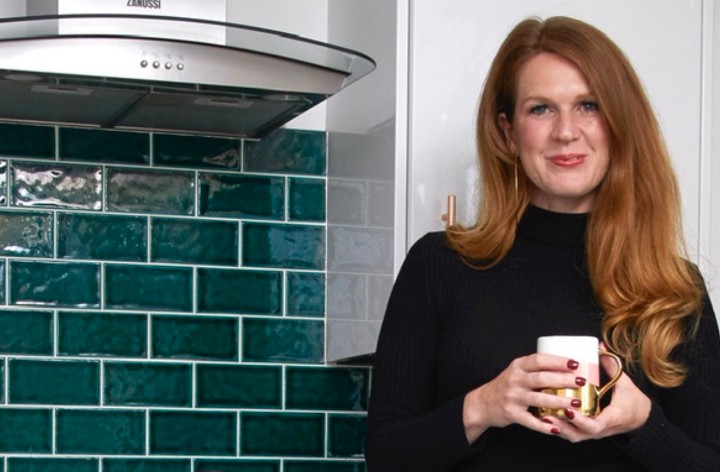 Q&A with The Shoe String Home
Coffee Break with Rachel Verney
Rachel Verney @the_shoestring_home is an avid 'upcycler' and interiors mad content creator, whose home is awash with colour and joy, aided in no small part by her Baja made-to-measure curtains. We took a coffee break with Rachel to discover, over a freshly brewed cafetière, what makes her tick at home and how colour and curtains bring 'the wow' to any space. Cue caffeine-fuelled quick-fire questions!
Your home style, in a nutshell.
I'm a colour loving 'mixamalist' (maximalist mix up). Give me clashing patterns, bright tones, florals and reclaimed furniture that I can paint! I love a bit of everything, especially if it's got a bright botanical vibe.
Go-to colour palette.
I love green and blue tones with pops of coral and mustard. Our home has different colours in every room but these are the colours that run throughout. I think that colour is an instant mood lifter. How can you feel down when you are surrounded by beautiful bright tones that transport you to a sunny place? I just love coming home after work to a bright happy space.
The backdrop for Baja.
Our dining room was already colourful and with bright wallpaper and painted chairs but it was missing something. The beautiful made-to-measure Baja curtains from Scion have tied together with the colours in the room and completed the happy, tropical look I was going for.
The Scion shortlist.
The hardest part was picking the fabric, there were too many lovely ones! I narrowed it down to Baja (in two of the beautiful colourways) as well as Tropicana and Parlour Palm. They all ticked my 'colourful botanical' boxes but the dreamy combo of the forest, citrus and electric blue tones in the Baja print just won me over.
Made-to-measure, measure up?
The made-to-measure curtains were so simple to order! The Scion website is very intuitive, a couple of quick measurements on our window and some questions about fittings and we had the most perfectly fitting curtains. Our French doors are quite big and I would have struggled to find the right size 'off-the-shelf' so I couldn't recommend the made-to-measure service enough.
Top three tips for adding curtains with colour to the home.
Find a fabric or wallpaper that you LOVE.
Order plenty of samples so you can be certain about your chosen print.
Pick out some of the colours from it and incorporate them into the room.