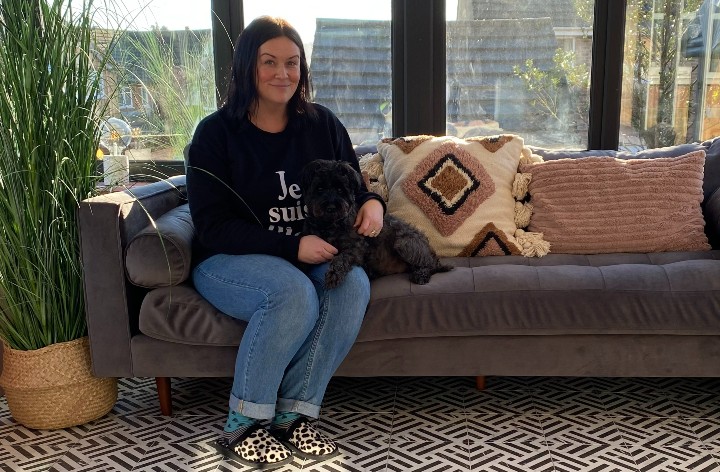 Coffee Break with Lucy Berry
Out of the wild with Leopard Dots
Creating spaces for every member of the family at home can be a tricky balance, with various desires and tastes to take into consideration. For Lucy Berry @that_berry_house with her love of soft, inviting colours and passion for pattern, Scion offered plenty of playful options to inject some personality into her daughters' playroom, namely, Leopard Dots in made-to-measure curtains. We took a coffee break with Lucy to discover how Leopard Dots leapt into action, taking a sweet space to playful jungle heights.
Your home style/aesthetic, in a nutshell.
I would describe our house as a colourful home that has a relaxed and fun style that is suitable for family life.
The playroom plan.
My overall goal was to make the girls' playroom a fun, happy and inspiring space that the girls really enjoy spending time in. I love a pattern, so Scion's huge range of colourful Scandi-inspired patterns caught my eye when it came to selecting curtain fabrics.
Your go-to Scion selections.
Number one is leopard dots, but I also really like the Snowdrop print in Milkshake and who doesn't love Mr Fox?!
A leopard never changes its… dots.
When shortlisting patterns and prints for the playroom specifically, I requested fabric samples of Leopard Dots, Lionel in Ginger and Lionel in Honey as potential curtains. I was immediately drawn to Leopard Dots as it has turquoise and yellow detailing, which are colour accents that we have in the playroom. I also thought that these curtains would be more likely to be used again in another room if we redecorated at some point as they have a universal appeal.
Made-to-measure, measure up?
It was incredibly easy! The instructions online were so clear and easy to follow, and the measurements of my window were easy to take as a result.
Top three tips for creating playroom spaces.
Think practically and make sure there is lots of storage as your starting point
Don't be afraid to experiment with colour as this is something that always draws children in and makes a space more fun
If you don't have the space for a separate playroom, think about zoning in an existing bedroom or living area for some dedicated play space