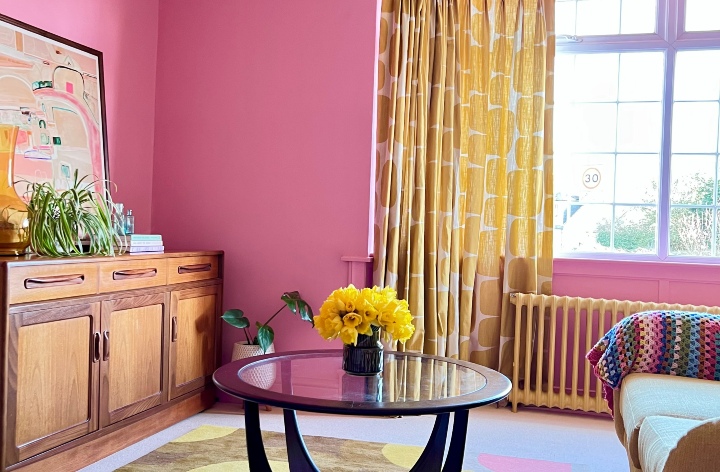 Q&A with Heather Andrews
Going Lohko: The sunny side of retro living
Heather Andrews is the creative behind @heatherrosieolivehome a bright, sunny home account full of colour and retro reflections. Her 1940s villa includes nods to mid-century design and 70s vibes, mixed in with a joyous palette that makes you smile at every turn. Here, Heather shares her love of crafting, which extended to home design and why going Lohko with her curtains was the perfect design statement for her home.
We love your style, Heather! Tell us a little bit about your background and love of design.
I used to be a nurse before giving it up to have my children and I now work in early years education and I have found a love for it. I started my Instagram account just before COVID 19 shook the world. It is, quite simply, a hobby that is got out of control and my confidence in my creativity has grown massively over this time. I have always liked to sew and crochet and craft, and my interiors are an extension of this.
When did you first discover your love of bright, joyful colours?
For as long as I can remember I have been drawn to bright and colourful things. It has mainly been expressed through clothing – a refusal to wear anything plain. I was always drawn to very chintzy floral prints and remember my childhood bedroom being decorated in pink flowers with a white background and a border. Of course, I absolutely adored it.
You live in a 1940s villa that expresses fun at every turn, retro, 70s, and Mid-Century references all combined to create an eclectic yet harmonious home – how would you define your interior style?
I think you have summed it up there! I buy what I love and it just kind of… works. I normally describe my style as colourfully eclectic. I am not too precious about avoiding modern or being perfectly accurate to an era or even true to the age of my home. I am delighted you say it is fun this is exactly what I am going for.
Do you have any rules that you live by when decorating at home?
There is a colour theory that everybody falls into a season of colours they actually like and this is true of me. I love Spring colours with hints of Autumn. I will use bright colours but I add jewelled Autumnal tones to ground the room. Most commonly I use mustard or dark green, but I love teak furniture and this does the same job; I find this balances out my vibrant springtime colours.
What are you inspired by?
@thehousethatcolourbuilt and @nofeaturewalls on Instagram have influenced me hugely. I always hated the feeling of being safe and caring too much about what people would think. These women inspired me to unleash what I love in my home and not hold back. 60's Psychedelic patterns and prints make my heart sing and I will take note of colour combinations in them too.
What was it about Lohko from Scion that drew you in?
The print has a very retro feel and I knew the curved shapes would go beautifully with my G-Plan furniture. I actually find the curtains quite 'neutral' in a good way, and I believe they are future proof as my decor changes over the years.
Did you immediately know how you would utilise the print?
Oh yes, I scrolled the Scion website but kept coming back to Lohko. It is cool but classic in my opinion.
How did you find the made-to-measure process at Scion?
SO EASY! Being able to choose my pleats and to have them lined was such a luxury. The website was just so easy to navigate.
One final but important question - did you paint the radiator to match the curtains, or did you select the curtains based on the sunny disposition of your radiator?
The room was already decorated, and the radiator was already painted. You can see how I knew Lohko and I were meant to be together!