The Edit
A Hint of Fox for the Home: The Accessory Edit
So, you've discovered our friendly fox but are feeling tentative about introducing him into the home? Fear not, not every foxy foray has to be an all-out celebration of this iconic silhouette.
There are ways, big and small (and now Midi) to introduce hints of Mr Fox and the cool, crisp colour palette from the range, into your home.
From statement rugs to cushions and towels, adding subtle accents can evolve spaces in playful ways using our signature Fox.
Do the Fox Drop
Creating calming spaces in the home has never been more important, as, over the past two years we have rediscovered the joy of home and redefined how and where we spend the most time. Rooms have been reassigned and sanctuaries created with textures and tones so important to the hygge vibe. Where Mr Fox is concerned, sometimes less is more to create that playful tone that gives your home plenty of personality, whilst maintaining its calming atmosphere.
Simple blinds are a great way of achieving this. Expertly crafted using our fun-loving fabrics, windows can be given the wow factor with Mr Fox blinds in a variety of colourways and size options. Made to measure and stylishly tailored to your personal style, Mr Fox may help to block out sunlight but never stifle joy in the home.
Over the Threshold
Walking through the door after a long day in the office, returning from an invigorating dog walk, or simply wrangling shopping bags full of groceries, who should greet you more welcomingly than Mr Fox? With a door mat to welcome you and your guests with a little love and a lot of style, and in colour options including navy, there's to need to stick to tradition too much as a little colour can be injected as soon as you open the door. Be free of the classic straw tones of coir and embrace a rich pop of navy, highlighting Mr Fox's orange hue to perfection.
All Wrapped Up
Pops of colour in an otherwise crisp bathroom setting can work wonders at injecting personality and bathroom towels are a textured way to achieve just that. From mustard tones layered on chic grey tiles, to Mr Fox on a mint background to really stand out.
Mr Fox Bedding Set in Denim/Orange & Blush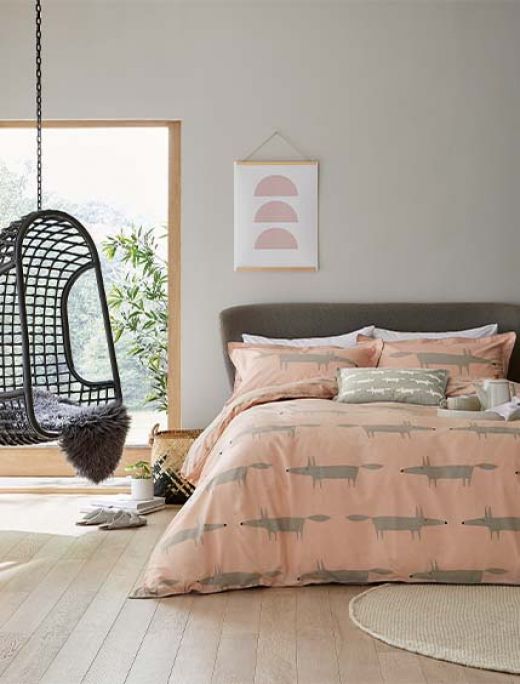 And So, To Bed
Snuggle down in the eve with the perfect book, wrapped in the comfort of our stylish Mr Fox bedding. For a touch of foxy flavour in your bedroom, bedding can be the artistic statement you need to make. 100% cotton and 100% impactful, Mr Fox in the Denim & Orange colourway is so universally appealing that everyone will want a piece of the duvet. Pair with cushions and a throw in a more neutral colourway for contrast and you've got a statement bedroom that you can switch up as often as you like. For a more muted flavour, blush serves up just as much style, with its contrasting grey piping and soothing tones.
Discover More Mr Fox Accessories